Introducing The Beginner's Guide to Creating Video: A Storyblocks original video series
Video Tutorials
December 6, 2022
Introducing The Beginner's Guide to Creating Video: A Storyblocks original video series
---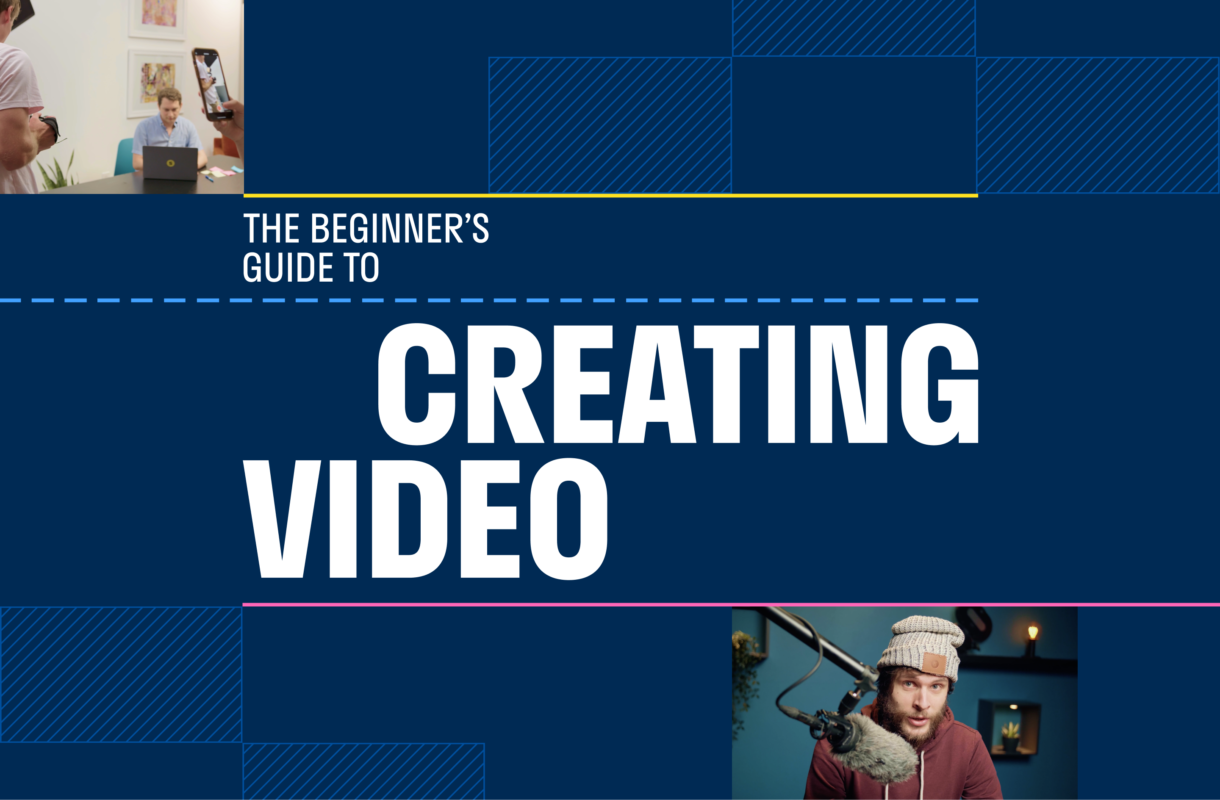 Remember when people used to say "content is king" all the time? Well, that may still be true, but even in the kingdom of content, video rules the realm. There is simply no better way to capture your audience's attention than with a well-executed video. Creators and brands know this all too well, but many still struggle to get their video content off the ground. Some assume it'll be too time-consuming or complex, others simply don't know where to start. That's why we launched a brand new original video series, The Beginner's Guide to Creating Video.
This nine-part series will arm you with the knowledge and confidence you need to start producing high-caliber video content at scale. At Storyblocks, we don't buy into the idea that complex tools and expensive equipment are prerequisites for telling great stories. Instead, we want to level the playing field so all creators can compete on equal footing — regardless of experience level.
Storyblocks provides the platform, tools, and premium stock content, you bring the creative spark that fuses it all together into impactful and memorable videos. With Storyblocks, you don't need years of editing experience to bring your vision to life. Our extensive resources make it easy to create professional-quality videos faster than you ever thought possible.
Worry not, future superstar video creator: The Beginner's Guide to Creating Video is designed just for you. 
Watch Now
What to expect from The Beginner's Guide to Creating Video
Each highly digestible episode in this nine-part series dives into a different essential topic on video production. But you won't find boring lectures or static screenshots here, because this isn't your usual dry, monotone training video series. This series is packed with real-world, practical advice from some of the best creators in the game. They lay it all out in terms you'll instantly understand so you can ramp up your skills fast and get better results.
We enlisted the help of world-class content creators like Chrystopher Rhodes (YCImaging), Shannon Beveridge (nowthisisliving), Zolita (ZOLITA), and Jordy Vandeput (Cinecom). But we didn't stop there. We also got some of Storyblocks' own expert team members involved to drop some insider knowledge on how we make sure the video content we create always delivers for you. Together, this all-star team of video power players walks you through video production tips and tricks and a host of insights to help get your content in front of the maximum number of eyeballs.
You'll learn about the key steps of video production like goal-setting, distribution, editing for different platforms, and how to create rock solid processes for more efficient production. Best of all, you don't need to dedicate hours of your time to get incredible value from this series. We kept each episode under 5 minutes, and packed them with actionable information you can use today. So, you can jump into the series anywhere you'd like for a hyper-focused lesson on a specific topic. Or, if you're thirsty for all the knowledge, watch the whole series in under an hour. It's a crash course you won't find anywhere else.
"If you need to create eye-catching, scroll-stopping videos but you don't know where to start, this course is for you."
– Chrystopher Rhodes, YCImaging
Meet the video experts
In the premiere episode of The Beginner's Guide to Creating Video, you'll meet your expert instructors. They'll introduce you to the topics you'll learn about in the series and give you a taste of what's to come. It also sets the tone with an important reminder about embracing your creativity: Great video isn't about the equipment you have or your level of experience. All you need is a strong desire to tell a story.
If you're new to video creation, you really can build the skills you need to create high-quality, engaging content. And it takes less time than you think. Seriously, you really, really can. If you're still uncertain, just check out the first episode The Beginner's Guide to Creating Video. It's going to make a believer out of you. Even if you're a seasoned pro, you're sure to pick up a useful tidbit or two from the series, too.
Watch Storyblocks' Beginner's Guide to Creating Video
Storyblocks' original series, The Beginner's Guide to Creating Video, is free for you to watch right now. You can binge the whole series in less than an hour, or just pick and choose individual episodes that interest you. Regardless of how you watch it, you'll pick up tons of tips. Tune in now to learn how you can start making great videos faster than ever before. 
Start Watching
Coming up in
Episode 2
, you'll learn the importance of knowing your audience, and how to create videos that deliver on their expectations.