How to Use Lower Third Templates in Adobe Premiere
---
In video production, lower third graphics are banners of text that appear in the "lower third" of the screen. These banners often introduce speakers or provide context, and are a great way to add extra information to your video. Most editing software programs have some type of title tool generator that allows you to make these graphics during the editing process. However, this tool can be very limiting and often won't produce the best quality graphics.
iMovie has a simple way of incorporating professional-looking lower third templates that can truly enhance your video–but if you're looking for a lower third graphic that is a little more professional, you may want to consider using templates from an outside source. These files come with a built-in alpha channel, which means the graphic itself will be able to float seamlessly over your footage.
Check out this tutorial to find out how:
Or follow these easy step-by-step instructions:
Note: These directions will only work for still lower third templates. They will not work with animated lower third templates.
Step 1. Turn on Advanced Tools
If you're working in iMovie 11, open iMovie and make sure you have your Advanced Tools on. To do this go to iMovie>Preferences>Show Advanced Tools. If you're working in iMovie 10X, these will already be activated (so you can move on to step 2).
Step 2. Create & Import
Create a new project and import the footage you wish to place the graphic on top of. (File>Import>Media)
Step 3. Drag & Drop
Drag your footage from the clips bin (top) to the project bin (bottom).
4. Add the PNG File
Find the .PNG file you wish to use as your lower third. Drag it on top of your footage in the project bin.
If you're looking for templates, here are a few that we recommend: Modern Lower Third 3 – vladoskin7
Golden Film Reel Lower Third
Note: You MUST save your graphic as a .PNG file for these instructions to work.
Step 5. Adjust the Size
Your .PNG file will show up in the corner of your preview screen. Simply drag the corners to adjust the size and have it fit the entire screen.
Step 6. Add Text
Now it is time to add text to your lower third if you haven't done so already. Click on the Text Tool on the right side of the screen (it has a "T" icon). Choose "Reveal Lower Third" and place it on top of the footage in the project bin. In iMovie 10, you won't be able to edit the text in the preview screen, so we suggest you just adjust your .PNG file so that the text falls into it.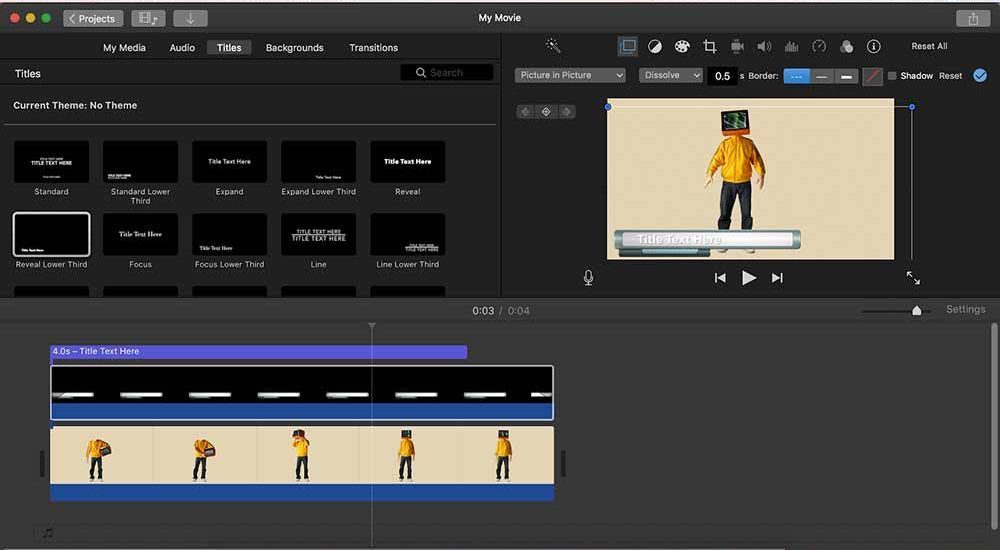 Step 7. Fade the Graphic
You'll notice the text will automatically fade in and fade out. To get the graphic to do the same, double-click on the graphic, and a menu will pop up. Enable "Dissolve" and adjust the length of the fade you want. Click OK and you should see that the graphic will fade in and fade out with your text!
Step 8. Save Your Project and Share!
That's it! It is incredibly easy to create professional-looking lower third graphics using iMovie.
Short on time, but still want to add extra information to your video project? Check out these ready-made lower third designs!
Explore More Lower Third Templates