How to upload a video to Twitch
---
Twitch is a popular online platform for live streaming, online gaming, eSports, entertainment, and other types of video content. Gamers and content creators who use Twitch to upload their videos gain access to more than 30 million active daily users. Uploading videos can be a great way to offer more unique content to your live stream Twitch videos. Keep reading to learn how to upload a video to Twitch.
Twitch is available through its official website along with apps for various platforms including smartphones, gaming consoles, and smart TVs. Anyone can create a free account.
Why should you upload videos to Twitch?
Twitch is an ever-growing online platform for videos and live streams. According to 2021 data, there are more than 2.5 million people watching videos on Twitch at any one time.
Since its launch in 2011, Twitch use has grown dramatically. In 2011, Twitch received about 3 million unique visitors each month. In 2021, that number had grown to over 140 million visitors per month.
If you are an online content creator, especially one that wants to use live streaming, Twitch is the ideal platform. Uploading videos to Twitch can help you grow your audience by reaching viewers where they are.
Twitch streamers can potentially earn money from the platform through subscriptions and collaborations with a Twitch Partnership. The top streamers, including PewDiePie and Ninja, have earned millions in just a few years.
Twitch differs from other online video platforms in that most of the content is live streams as opposed to edited, pre-recorded videos. Twitch also has more lenient rules for its content since most of it is live. One of the most popular features on Twitch is live chatting. Streamers can get instant feedback from their fans, answer questions, and get to know their followers. This can lead to Twitch feeling more like a community of passionate people instead of just a video platform.
Uploading videos to Twitch can be a great option if you want to offer more content to your followers. If you are a new Twitch user, you may not be able to upload videos to Twitch. Before you can upload to Twitch, you have to be a Twitch Affiliate or Partner.
To earn the Affiliate status, you need:
At least 50 followers
At least 500 minutes of live streaming over the past 30 days
An average of three or more simultaneous viewers
Seven unique streaming days
The Twitch Partner program goes beyond the Affiliate status. To qualify you must have completed the Path to Partner achievement or have a large and engaged following.
What are Twitch's video format guidelines?
You can upload a video to Twitch in a variety of formats. Make sure your videos follow these guidelines.
Twitch video formats
Here are some of the following video formats you can upload to Twitch:
Up to 1080p/60FPS
MP4, MOV, AVI, and FLV files
AAC audio
h264 codec
Up to 10Mbps bitrate
Twitch video upload limits
Twitch has a limit of 5 uploads per account at the same time, with up to 100 uploads in 24 hours.
Step-by-step instructions on how to upload a video to Twitch
Follow these step-by-step instructions to upload a video to Twitch:
1. Visit the Twitch homepage
Visit the official Twitch home page at www.twitch.tv.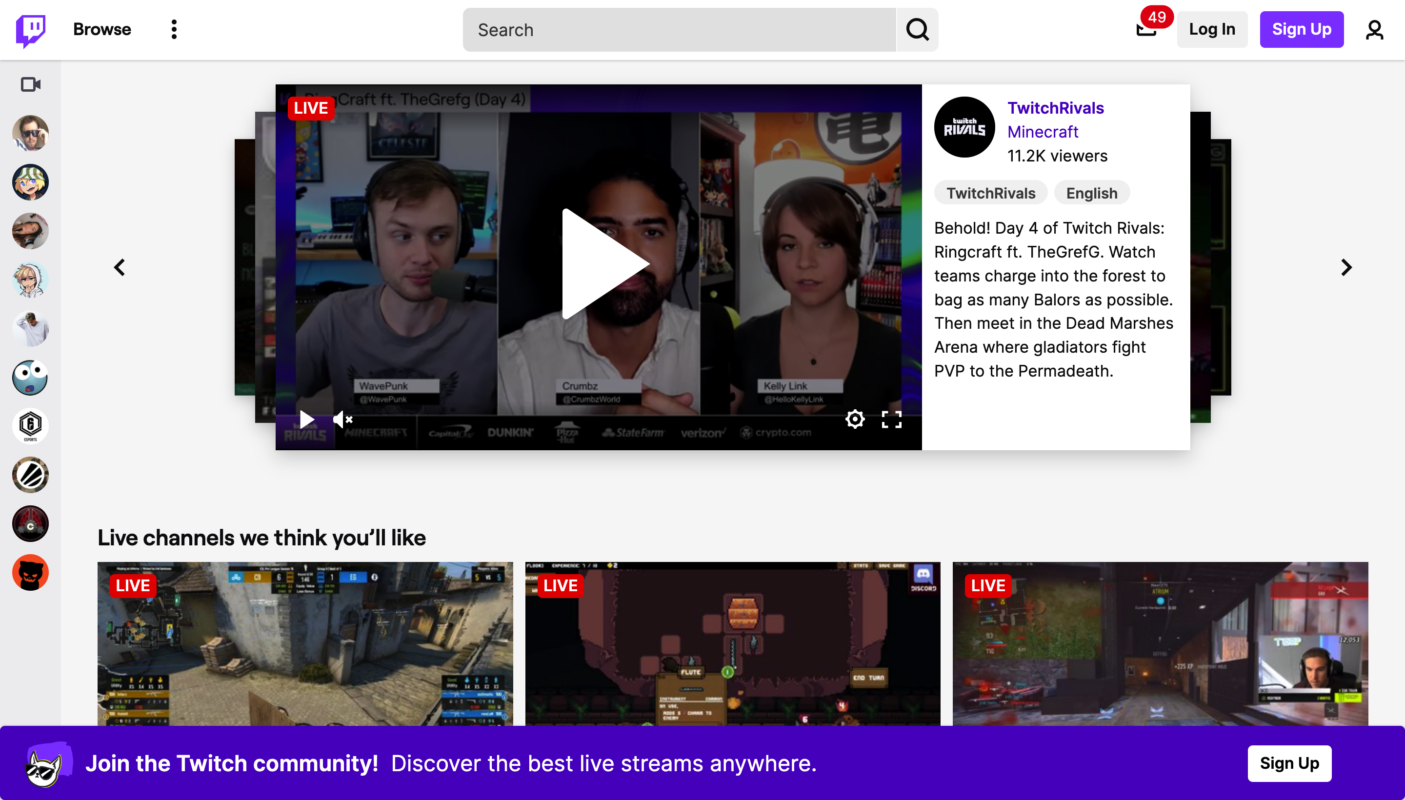 2. Access your account
Click on your account profile picture in the upper right corner of the Twitch screen to access your account.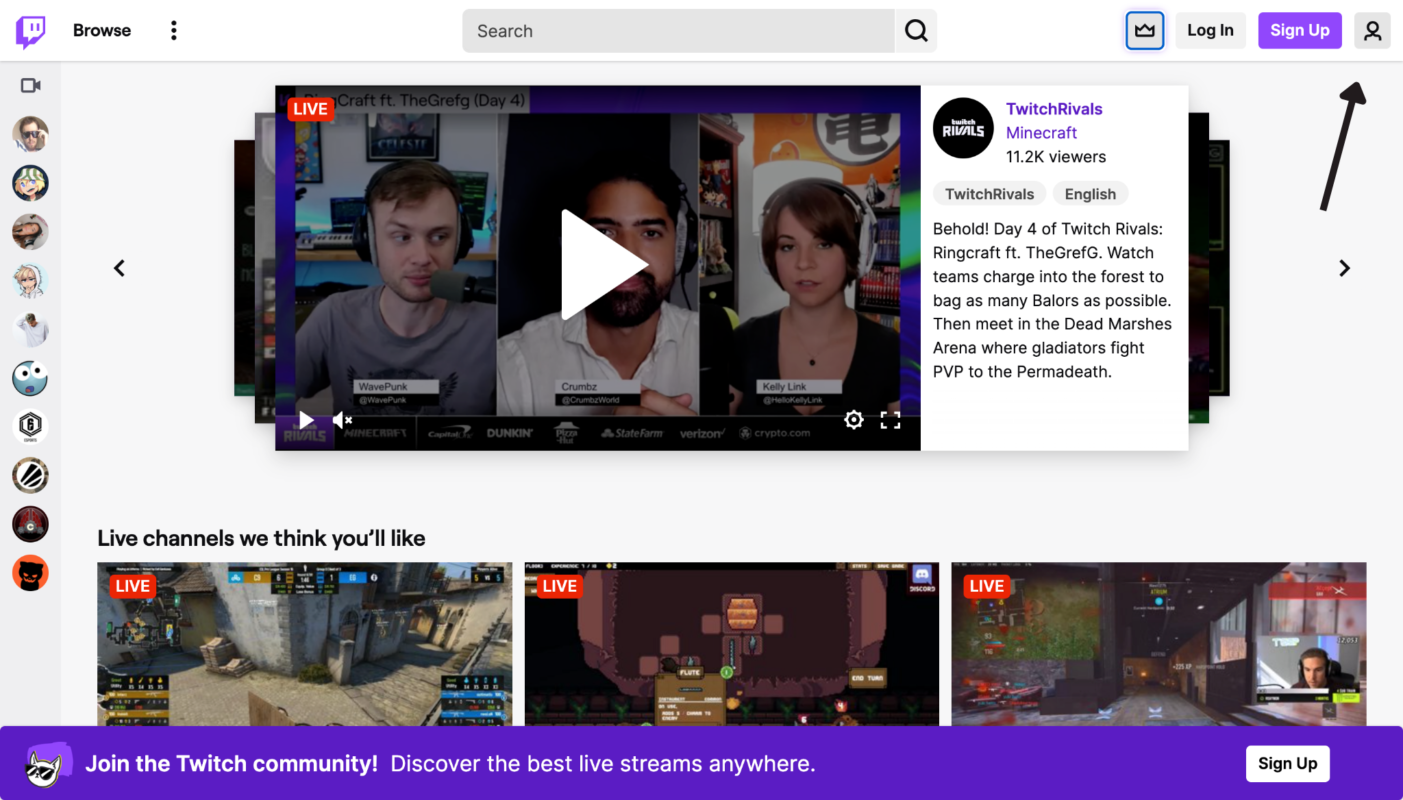 If you are not logged in, select Log In at the top right.
3. Select "Video Producer"
When you click on your profile picture, you will see a drop-down menu. Click on "Video Producer."
This will take you to the "Creator Dashboard."
4. Use the "Upload" option
If you have earned a Twitch Affiliate status, you will have a purple "Upload" button at the top right. This screen will be mostly black if you haven't uploaded any videos.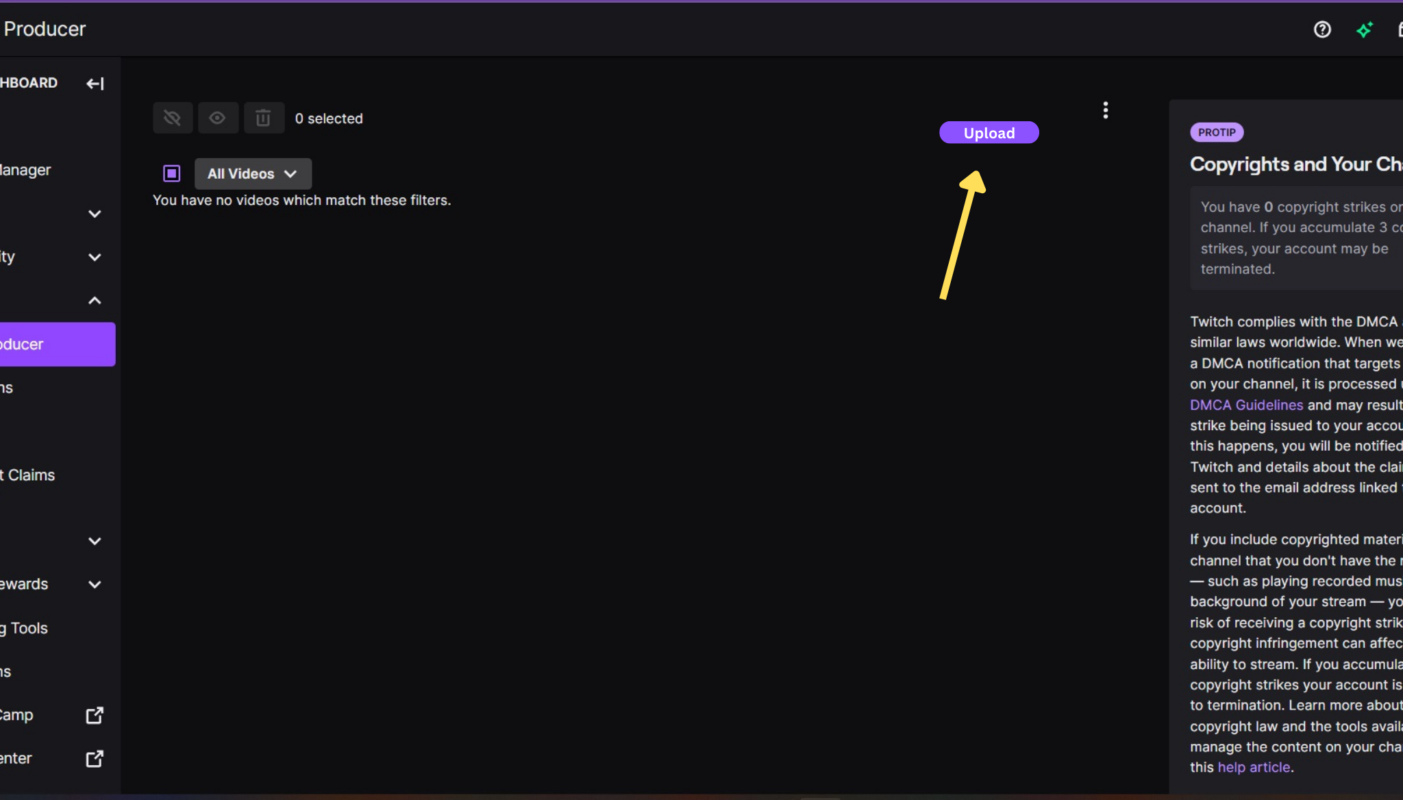 5. Select your video
When you click "Upload," a computer dialog window will pop up and you can browse to the video you want to upload. Click the "Open" button in the dialog window to start uploading.
You can also drag and drop video files into the "Creator Dashboard" screen to start an upload. With either method, you will see a progress bar that shows the upload status.
6. Enter your video's details
Once the video has finished uploading, click on the "Publish" button next to it. This will bring up a screen where you can enter the video meta details, including the title, description, language, category, and any applicable tags. You can also choose the thumbnail like you would with a YouTube video.
7. Publish your video
To officially share your video on Twitch, click the purple "Publish" button at the bottom corner of the screen.
Creating an account on Twitch
If you have never used Twitch before, it might take you a while before you reach your Affiliate status and can start uploading videos. However, anyone can create an account and start live streaming on the first day.
Here are a few quick directions on how to create a Twitch account in five steps.
1. Visit the Twitch homepage
Visit the official Twitch home page at www.twitch.tv.
2. Sign up for Twitch
Click the purple "Sign Up" button in the top right corner.
A small window will pop up and you will need to fill out all the required information. You can choose to sign up using either your phone number or email address. Click the "Sign-Up" button at the bottom of the window when you have filled out all the information.
3. Verify your account
Once you click "Sign Up," Twitch will prompt you to verify your account. If you signed up using an email address, you will get an email with a verification code. Enter that code in the boxes.
4. Customize your account
Now that you have officially joined Twitch, you will be prompted to customize your account. Click on "Choose some interests."
5. Choose your interests
Twitch will ask you to choose at least 1 category or channel to help customize which streaming channels it suggests for you.
How Storyblocks helps people tell better stories
No matter which platform you choose to share videos on, whether Twitch, YouTube, or Instagram, Storyblocks can help you create better, more engaging content with royalty-free stock footage. Imagine upgrading your video content and reaching more viewers than ever before.
Storyblocks is an industry-leading video platform and is the first brand to offer a stock media subscription service that includes video, images, and audio. Instead of a pay-per-clip model, we offer subscriptions with unlimited monthly downloads. This gives content creators like you the freedom to make more of what you love.
We even offer solutions to businesses, including our new Maker Brands feature that allows anyone connected to a brand to add brand-exclusive logos, fonts, and colors to their projects with just a single click.
Ready to accelerate your video content creation? Sign up for Storyblocks today