The digital creator space has a go, go, go mentality, and creatives might as well be always working at warp speed. The amount of content being produced for digital and print platforms is increasing every day—simply because consumers want more and more content to see, share, and like (or double tap). How can creators possibly keep up with the demands of digital design? You may have heard of Photoshop actions—and guess what? They're game-changers.
What Is a Photoshop Action?
A Photoshop action is a pre-programmed series of steps used to edit or alter photos with just a click of the mouse or a keystroke—and they are super simple to make. You could use a Photoshop action to apply a watermark, resize an image, convert a photo to black and white, apply creative filters to your photos, and so much more. Of course, there are always a plethora of resourceful Photoshop tutorials you can follow—but imagine being able to complete an entire series of edits with a single keystroke.
How to Create a Photoshop Action
We're going to take you step by step through making your own Photoshop action. Once you've made one action, you'll have no trouble making more for every type of edit you could possibly imagine. Today we're going to create a sketch effect Photoshop action. Before we get started, grab a dynamic stock image
from our library to work on. This is the image we will be using.
Download this Fresh Portrait here.
Join Our Creative Community
Access the best video tips, design hacks, and deals straight to your inbox.
Getting Started
Before diving right into editing your photo, you have to tell Photoshop you want to create an action. Essentially, you will go through all the steps for editing your photo and Photoshop will record your steps. Let's open up Photoshop.
1.Grab Your Photo
Go to File > Open and select your photo you want to apply the sketch effect to.
2. Start Recording Your Photoshop Action
Start tracking your steps for the photo sketch by going to Window > Actions. Once you have the Actions Panel open select Create New Action and fill in the information accordingly.
Once you are ready to start editing hit Record in the Actions Panel.
3. Increase Your Canvas Size
Click Image > Canvas Size, and you'll be prompted to input the current Canvas Size and an option to change it. We went ahead and knocked ours up to three inches by three inches to give us a bigger space to work in for the sketch.
4. Create a New Layer
Once you've increased your Canvas Size, go up to Layer > New > Layer. You'll notice the new layer in the Layers Panel, but since it is transparent, it doesn't appear in your workspace. Click on the Paint Bucket Tool in the left-hand toolbar, choose the color white in the Background and Foreground Color Selector at the bottom of the toolbar and then fill your new layer with color. Make sure to rearrange your Layers, so your image is still seen.
5. Turn Your Image Black and White
To convert your image to black and white simply go to Image > Adjustments > Hue/Saturation. Take your Saturation all the way down to -100%.
Starting The Sketch
Once you have your photo in black and white, there are only a few more steps to follow before you can go ahead and start sketching your image.
1. Create a Layer Mask
On the bottom of the Layers Panel, with the photo layer selected, click on the icon that looks like a circle cut out of a square. This is the icon for Create a Layer Mask. The Layer Mask will be linked to your image. You want to use the Paint Bucket Tool to fill your Layer Mask with black. You won't be able to see your image after this.
2. Select a Brush
In the right-hand side toolbar, select the Brush Tool. Go up to Window > Brush Settings to open the preferences for the Brush Tool. You can also do this by pressing F5 on your keyboard. You will want to be using a flat, short, stiff brush to create your sketch strokes. Play around until you find one you like. You can always delete the layer mask and re apply until you you're happy with the brush strokes.
3. Sketch Your Photo
Play around until you find a brush you like. You can always delete the layer mask and re apply until you you're happy with the way your brush sketches your photo. Make sure your Foreground Color is set to white, and the Layer Mask is selected so you can see what you are altering.
As you're sketching your photo, make sure to change up your brush size and the Opacity to create depth within your photo. Using a cross-hatching method on the outer parts of your photo with decreased opacity, using darker, smaller strokes near the focal point and finishing up by using the Smudge Tool are all little design tips you may wanna try out with your photo.
4. Crop Your Photo
When you're satisfied with your new photo sketch, use the Rectangle Tool to select just the portion of your workspace that contains your image. Once you have it selected go to Image > Crop, then you've got a finished product!
Stop Recording Your Photoshop Action
Now that you have completed all the necessary steps to achieve your edit, you have to tell Photoshop to stop recording your actions. This is simple. Just go back to the Actions Panel and click Stop/Pause Recording.
Apply Your New Action to a Batch of Photos
What if you have a group of photos that need to all get the same treatment? Maybe for a marketing campaign or a social media aesthetic you're trying to keep up. That's not a problem. Applying a Photoshop Action to a batch of photos just requires a few more keystrokes.
1. Open Up Your Photos in Photoshop
Take all of the photos you'd like the edit applied to and place them in one folder.
2. Select Your Action
Open up the Actions Panel and with your folder selected, highlight the Photoshop Action you'd like to apply to the batch of photos.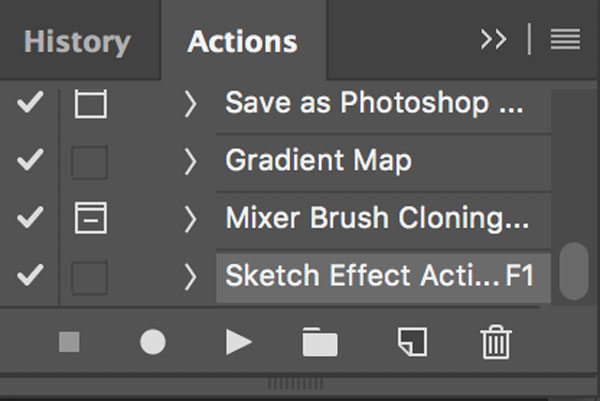 3. Set Up Your Output
Go to File > Automate > Batch. From there you will be prompted with a Batch Menu.
With the Batch Menu open, put your folder of choice under Source and choose the folder with your photos in it.
Under Destination, choose Folder and select where you would like your edited photos exported to.
Finally, checkmark the box that reads Override Actions "Save As" Commands.
Hit Okay and Photoshop will begin editing and exporting your batch of photos. It's a simple and time efficient method—what more could you ask for?
So there you have it. Now you know what a Photoshop action is, how to make your own Photoshop action, and how to complete batch edits with your Photoshop actions. Not only are you on your way to becoming a creative whiz—you're also one step closer to maximizing your workflow. Why not try out your Photoshop action on some fresh stock images?
Create More with Stock Images