The hardest thing to grab in advertising is attention. With so much content being produced every day, the creative standard is constantly being pushed higher and higher. Since marketing is a crucial component of event planning, this means your printed and digital materials need to be a cut above the rest. Not only does this include creating striking visuals to inform people of your event, but also to entice them to use your venue for their own events. Whether it's hosting the launch of a new business or advertising the event venue itself, you have to get people interested.
So why not hit the ground running with an InDesign brochure template that's completely customizable and time efficient? We've got a few helpful tips and tricks, including using stock design elements, vector graphics and your very own free (yes, free!) downloadable InDesign brochure template that will help you market your awesome venue in the best light.
Setting Up Your Template
Go to File > Open and find the InDesign Brochure templates. You'll have two template files. One for the front of the brochure and one for the back. Once both are open you'll see they have a layer that says, "Delete This Layer"—this layer serves as a guide. It visually depicts where the brochure will be folded when printed.
On the front template, decipher which panel is which (inside panel, outside back panel, outside front panel). We kept the fold lines and margin guides on the template while designing to make sure no bleeding would occur when we went to print. As you go through your design process, make sure you're aware of what panel you are working in. A tri-fold brochure is a little hard to visualize as folded when it is flat on your computer screen—that's why those initial guides are handy.
Getting Started
Before you get any further in your design work, go ahead and find a suitable background image for your brochure. Drop the image into InDesign and resize it to the dimensions of the brochure. Once it is resized, it helps to right click on the image choose Fitting > Fit Frame to Content. You're also going to want to right click on the graphic, click Arrange > Send to Back so you can still see your guide lines.
Give the Right Information
You need to determine what information you want to relay to your audience. You don't want to overload them, but you also don't want to leave them feeling confused or unsure of what your business or venue brings to the table. Make sure you include the pertinent information before diving into the nitty-gritty details. Facts such as your business's name, location, contact information and the date of your advertised event should be some of the first information presented.
We started designing the front template before moving on to the inside material. As the event manager, this would be the place to advertise the venue, what the space can be used for and its location. The inside of the brochure is where you can divulge into different aspects of your business or event. For example, if your venue is advertising to a business to host their launch party, add in fun featured snippets about what amenities the space has to offer and throw in how holding this kickoff event in your event space signifies the exciting future their business has when working with you.
With an InDesign brochure template,the possibilities are truly endless. You can be as creative as you want. Plus, using stock icons and stock graphics makes it even easier to knock out some professional promotional material. Many times, the most efficient way to utilize icons is to download a set of similarly themed icons and separating them in Adobe Illustrator and then dropping them where you see fit on your InDesign template.
Photos—What Kind?
Everyone loves a good photo, and it's a proven fact that visuals, whether it be in print or in media, perform well. So how do you know when it's okay to use stock photos stock photos and graphics versus using your own original work in advertising? When it comes to design elements such as vectors, icons, or any artistic graphic, you should be coordinating them to your brand, making sure they are consistent throughout your brochure, and use them as components that tie the entire piece together.
In other words, your brochure shouldn't be a bunch of graphics just copied and pasted onto the document. They should be strategically placed amongst your text and photos to add a touch of elegance or polish off the look of the brochure. Using vectors and icons can aid in the flow of information being read by your audience—think of them as guides or signs on a trail, directing the reader on where to go next. The last thing you want is your brochure to prompt a jumbled craze of information with no distinction or order, that's where stock vectors and graphics can be helpful.
Regarding photos, try to use images that are as natural and authentic as possible. No matter how important or well-crafted your text is, if you use outdated or overly posed photos, the meaning will be lost. Check out our Creator to Creator and Everyday People collections for some fresh inspiration—or explore our collection of wedding photos if your event space is popular among couples on their special day.
Remember that photos should be used to break up text and make the brochure engaging to a reader. Even better is when the text surrounding the photo connects with the content in the image. People love being able to be shown and experience, rather than reading about it—so try your best to add in photos that capture exactly what your business or event can provide to your audience.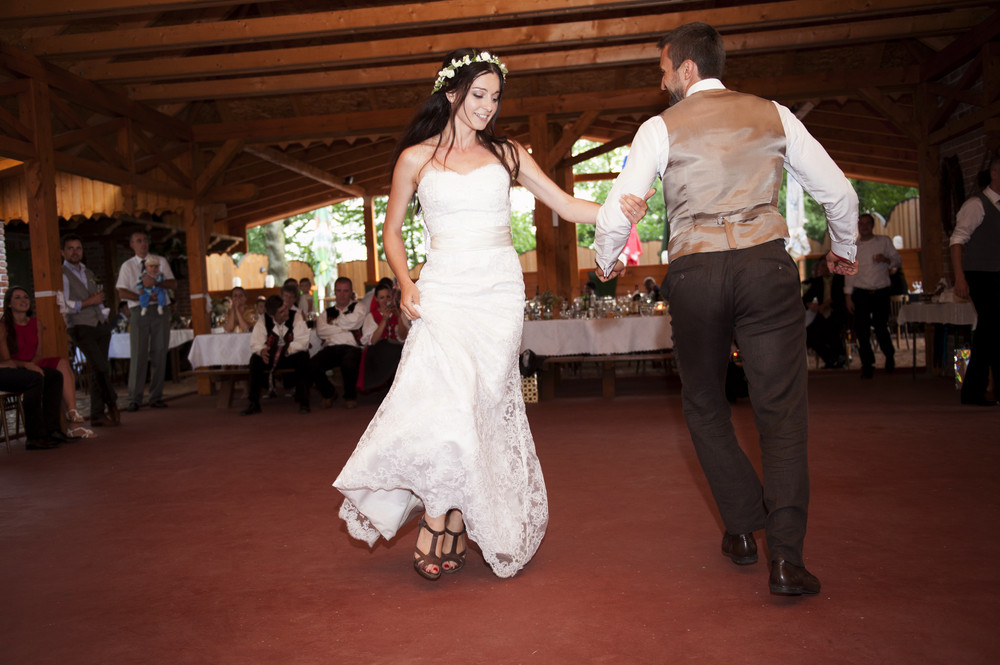 Download this Bride and Groom Stock Photo.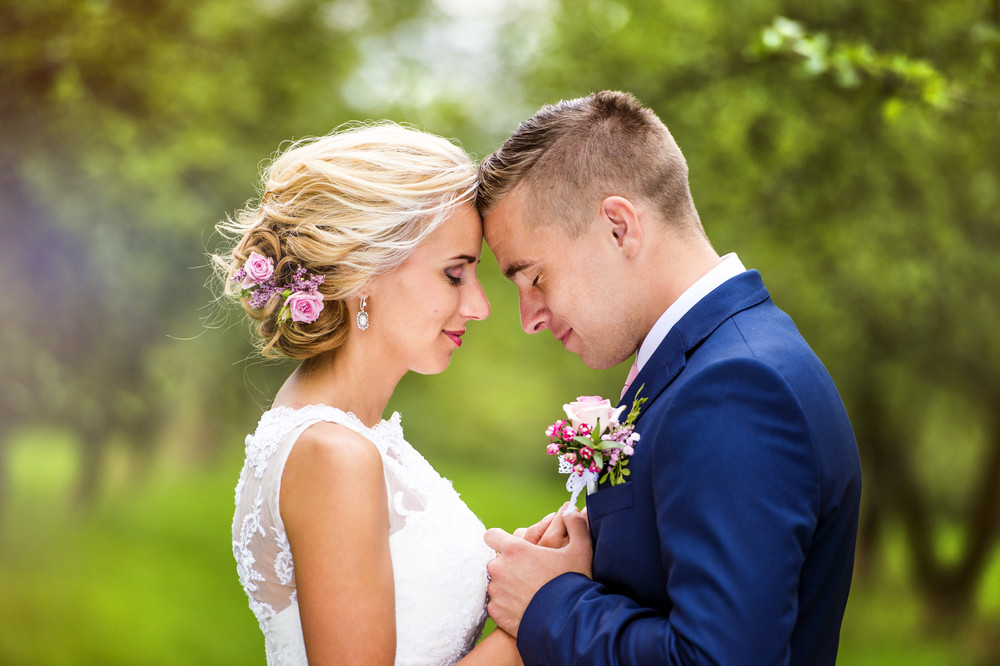 Download this Beautiful Couple's Portrait.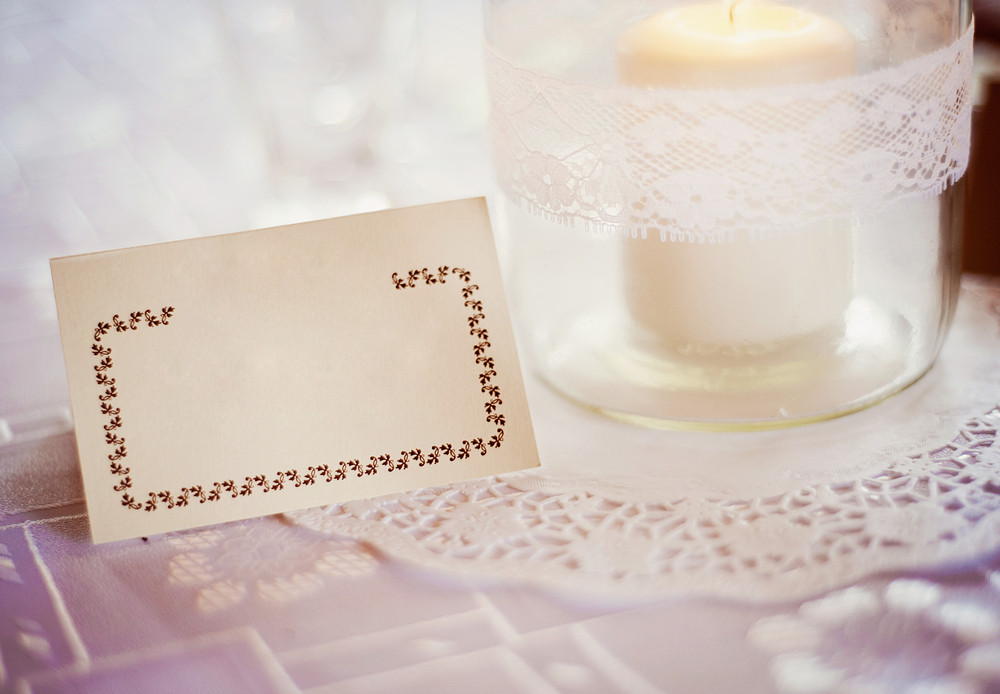 Download this Beautiful Customizable Table Decor Stock Photo.
Create a Good Flow
One of the great aspects about using a tri-fold brochure like the one in this guide, is that it's easy to block off and segment information. Visually, this helps a reader easily process the details you are presenting. Creating a natural and consistent flow of information paired with graphics is the formula to follow when creating impactful marketing materials. Take the time to hone in on the flow of material you have on your document. If it's too much, you lose the attention of a reader, and if the design is overcrowded, a reader may get overwhelmed and simply not read it at all.
Once you're finished designing both templates, the front and the back, it's time to take this project to print!

Now that you've got the skills and a free InDesign brochure template, it's time to start making waves in the marketing world. Go grab the attention of your audience with a budget friendly and time efficient custom design. There ain't no shame in being smart about addressing your business needs and using an InDesign template helps make time for even more creative business endeavors!
Start Designing