Top 15 Premiere Pro plugins
Creators
March 16, 2023
Top 15 Premiere Pro plugins
---
Premiere Pro is a powerful editing tool, but it doesn't offer the best features or effects compared to other video editing software. The good news is, you can change that. Take a look at some of the top Premiere Pro plugins for filmmakers and video editors to make your life easier and more productive.
1. Storyblocks Plugin for Adobe Creative Cloud
Designed to help you work quickly and more efficiently, the Storyblocks Plugin for Adobe Creative Cloud gives you unlimited access to our diverse, royalty-free stock media library, directly in Premiere Pro.
Now, you can discover the right content for every project. Specifically, this plugin offers features like in-app search and asset preview. These make it easy to search the entire Storyblocks library and find key details like file specs, contributor info, and more before you download a file.
When you're ready, easily download your selected assets directly in Premiere Pro with in-app downloads. Then, your content is automatically organized and stored in your preferred project bin, which can be personalized using download settings.
Learn more about how the Storyblocks Plugin for Adobe Creative Cloud can help streamline your creative workflow and scale video production so you can get to market faster.
2. Cinema Grade Premiere Pro plugin
The Cinema Grade plugin includes more than 100 powerful color grading controls, over 90 Hollywood Style color presets, real-time previews of your favorite LUTs, and support for 16 bit & 32-bit float files.
Cinema Grade is the perfect tool for filmmakers, videographers, photographers, and editors looking to make their videos pop with professional cinematic color grade looks.
3. RED GIANT Pluraleyes
PluralEyes is a powerful tool that enables you to sync your video and audio files quickly and accurately, without all the hassle. It makes sure that your multi-camera shoots, smartphone videos, DSLR footage, or any combination of cameras and devices are perfectly synced every time.
4. Flicker Free plugin
The Flicker Free plugin is inspired by the work of one of the most accomplished editors in the industry, Martin Zinkevich. One of Martin's signature techniques is called "variable speed ramps." This is helpful because it can smooth out transitions from one video speed to another.
The Flicker Free plugin reduces flicker, generating red, green, and blue color channels from a single RGB source to add more functionality to your video projects.
The plugin is mainly designed for time-lapse and slow-motion videos. In both categories, it helps to get rid of unsightly flicker in videos, even if it's shot with a high-end camera. You can also use it to reduce flicker in regular speed clips.
5. RED GIANT Primatte Keyer plugin
The Primatte Keyer plugin is an advanced green/blue screen keyer that has been used to key hundreds of feature films and primetime television shows.
It can automatically separate complex composites into perfect color separations with tools designed to be fast and easy to use. Notably, the Auto Compute Algorithms are smart enough to work even on difficult shots with motion, shadows, or lighting changes.
Whether you are new to keying or a veteran looking for a faster workflow, Primatte Keyer's intuitive controls are easy to set up and get running in no time. That's because built-in presets make it easy to start working quickly without sacrificing control.
6. FilmConvert plugin
The FilmConvert plugin is a powerful tool for color grading, perfect for creating motion graphics and films.
Color-correction can be very subjective. So, the FilmConvert plugin simplifies the color grading process by using presets to help you achieve your desired aesthetic.
The FilmConvert plugin also provides advanced controls to fine-tune the effect, including contrast, exposure, highlights, shadows, saturation, and more. You can use FilmConvert in both After Effects and Premiere Pro.
7. Colorista
Colorista is a color correction and grading plugin. It gives you the power to create amazing images with pro-level color correction tools . It's the only plugin suitable for both editors and colorists since it works directly with Premiere Pro, so you can instantly see the effects of your adjustments.
It brings a new level of control to color correction, letting you adjust multiple parameters simultaneously. That includes saturation, hue, brightness, contrast, and more. But it can also automatically match or complement surrounding colors.
8. Neat Video
Neat Video is an extremely powerful digital filter. It's designed to reduce visible noise, flicker, and other imperfections in footage. And that footage can come from a variety of sources, like digital video cameras, DSLRs, TV-tuners, and even digitized film or VHS.
It features a unique, patented noise reduction algorithm that preserves sharpness, fine details, and textures while removing digital noise. The Neat Video plug-in operates with a minimal user interaction and can be applied in only a few clicks.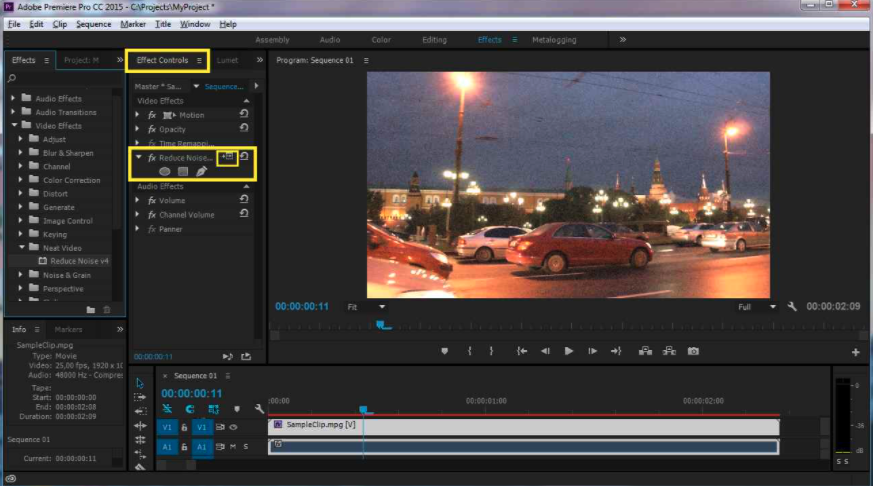 9. BORIS FX Particle Illusion
Particle Illusion is a standalone application, but it's also a powerful plugin that gives editors and artists instant access to high-end photorealistic particle effects for motion graphics, visual effects, lower thirds, titles, and background graphics. Available as a free application or as a paid premium filter, Particle Illusion is the choice for anyone looking to quickly and easily add amazing particle effects to any image, animation or video.
This powerful Premiere Pro plugin has an intuitive interface that allows you to quickly create stunning, highly realistic particle effects. All of a sudden, you can do these things without any extensive training or artistic skills. Or, you can create an unlimited variety of effects using Particle Illusion's built-in presets and controls. You can even experiment with limitless custom settings to create the most complex and unique looks imaginable.
10. Twixtor Premier Pro Plugin
You know the scene all too well: you're editing a video and want to make a quick transition to a new clip, but there's a bit of motion between them that you don't want. You could cut around it, but cutting destroys information. It would be so much easier if you could just slide the transition out of the way, right? Twixtor lets you do just that.
The Premiere Pro Twixtor plugin is a special effects plugin that enables you to convert your footage into high speed and high frame rate footage. It allows you to slow down or speed up your footage without causing that annoying "strobing" effect that can sometimes happen.
11. Separate RGB
If you're familiar with Photoshop, then you'll know that when you apply an adjustment or effect, it affects all layers within the image. SeparateRGB makes it possible to isolate parts of an image so that changes can be made without impacting other parts of the image.
SeparateRGB is a Premiere Pro plugin that allows you to separate the Red, Green and Blue channels of your video or image into individual layers. It's great for editing and compositing. What's more, you can use it in any version of Premiere Pro CS3 and above.
SeparateRGB allows you to add an effect such as a blur or color correction to one channel while leaving the others alone.
This is super useful for video editors. Occasionally, you just want to change one part of the image without changing another. Let's say you want to color correct only half of the screen. Instead of painstakingly building borders around the area, you can now apply an effect to just that part of the screen with a few clicks. Alternatively, you might want to put two clips together without changing their colors too much. Separate RGB makes that easy to do, too.
12. Coremelt Premiere Pro plugins
The Coremelt plugin set is a collection of plugins for Adobe Premiere Pro. Organized into one easy-to-use installer, these plugins are designed to take your video editing further by adding additional features and enhancements to your existing editing environment.
13. BorisFx Sapphire plugin
The Sapphire plugin from Boris FX is a powerful tool that brings you NLE, the world of color correction and manipulation. Using this plug-in, you can add a wide range of filters. Each allows you to easily correct your clips or add certain elements to them. The filter you apply in the Sapphire plugin will change dynamically in real-time. You can apply the filter using a variety of methods depending on your needs.
Most filters also come with extra parameters that you can easily adjust to your liking. Sapphire comes with over 200 preset filters. You can use them as a starting point for creating your own, or for modifying existing ones.
The Sapphire plugin also allows you to work with 3D objects and has a very flexible user interface to help you work faster and more efficiently.
14. BorisFX Mocha Pro plug-in
The Boris FX Mocha Pro plug-in is one of the most powerful tools for advanced compositing (layering multiple video clips together). It works with Premiere Pro and After Effects, but not Photoshop. This plug-in allows you to apply special effects to individual objects within a scene. Therefore, it's great for adding visual interest to your projects. For example, you can make the background behind one person blurry while keeping the foreground in focus.
This plug-in comes with a set of standard presets that include lighting effects like flares and glints. So, you can customize it by adjusting the intensity of individual features like glints or lens dirt to create unique looks. The BorisFX Mocha Pro includes tools for tracking objects within the scene. This makes it easy to composite them without distortions or gaps between layers.
15. NEW BLUE FX Stabilizer
New Blue FX Stabilizer is all-new and has some amazing, powerful features. The plugin offers five different stabilizing modes, including the ability to choose which axis of movement you would like to stabilize. You can also control the speed of stabilization, as well as the intensity of the effect.
Furthermore, it comes with true 3D stabilization. So, you can stabilize footage shot on a handheld camera that pans or tilts up, down, left, or right.
There are also three different quality settings available, including low, medium and high.
New Blue FX Stabilizer comes with a help file that provides plenty of information to help you get start. And, there are also tutorials available online for those who would like to learn more about using the software effectively.
---
We hope you found this list of Premiere Pro plugins useful. Premiere Pro is a very powerful tool for editing video, even without any plugins. Finally, you can get even more out of it. There are tons of add-ons to choose from if you want to customize the software for your own needs.
If you need more information, take a look at our other articles related to Premiere Pro.
Editor's note: This article was originally published on December 12, 2021. We updated it to reflect current information.