The 10 Best Production Tips You Might Overlook
Creators
November 19, 2020
The 10 Best Production Tips You Might Overlook
---
There are so many things that a video creator needs to think about when they are in production, and it's really common to forget something. So fresh off of their partnership with Storyblocks, we asked the artists of Re: Stock to share their best production tips and secrets. To our surprise, it wasn't an exhaustive list of all the gear you need to have or the technical challenges to watch for. Instead, the simple things often overlooked can make a big difference to your shoot's success.
1. Do it in pre-production
"The most important tip is if you can do it in pre-production, that's when you wanna do it. Don't wait until you get on set to do things." — Samantha Mitchell, Boob Sweat Collective
2. Don't forget tape!
Nope. Not film tape.
"Gaffer tape. You can gaff tape anything. Just make sure you have some tape. You gotta tape down wires, you gotta tape a light to a wall… gaff tape." — Monica Singleton
3. Be nice
"My production secret that no one knows? Can I have a drum roll please? It's to be nice to people. I realized that when people feel cared for when they're on your set, they put their all into it. Whether that's making sure people feel heard, whether that's making sure people are fed, whether that's making sure people are respected, I think all of those things tie in to making sure people will put their all into the set or the assignment given at hand." — Samson Binutu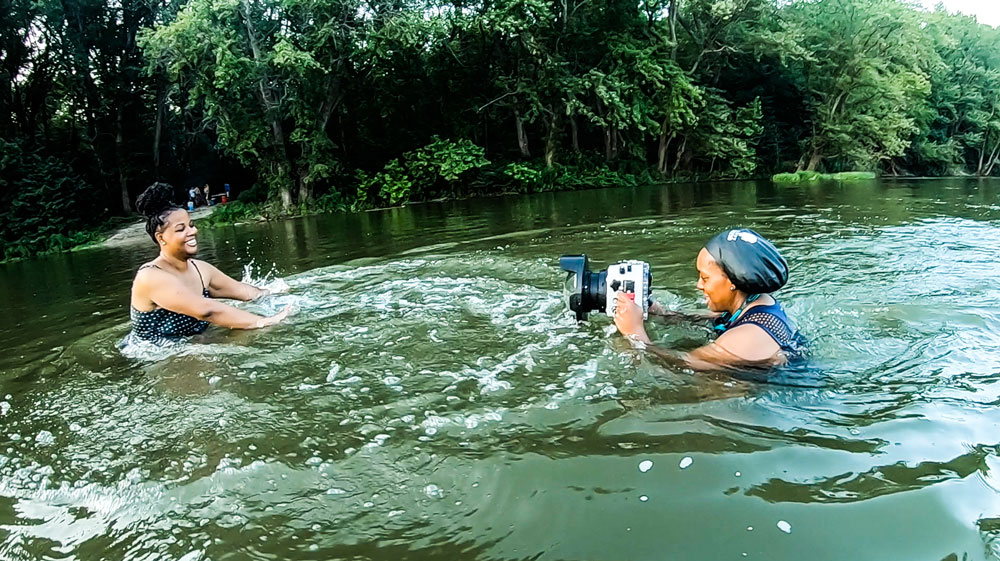 4. Don't underestimate the mundane
"Don't underestimate the mundane things. You will be surprised how much sunscreen, bug repellent, and an extra bottle of water will come in handy." — Makare Saunders, Boob Sweat Collective
"Wear your best bra." — Camila Franco Ribeiro Gomide, Boob Sweat Collective 
5. Good food
"The secret to a great production is good food. And I don't mean like Domino's pizza or just like, Doritos. Being able to have good food, beverages, water especially, just to keep the people who are on your set healthy and happy, that will reflect in the final product." — Mo Rodman 
6. Nail your exposure
"As a DP (director of photography) I'm more technical. If you can nail your exposure, 9 out of 10 times you're gonna get a pretty nice image." — Donovan Randolph
7. Get crafty with light diffusion
"Any random blanket or a sheet on set can be used as any type of light diffuser you need." — Makare Saunders, Boob Sweat Collective
"Yes, including trash bags." — Imani Leigh, Boob Sweat Collective 
8. Clear your mind
"My favorite video production tip is to meditate right before I shoot. It's not something I hear people talk about a lot. It helps me to kind of develop a calmer mindset so when things don't really go quite as expected, I'm able to make the decisions that ensure that our goal for the video is met." — Chez Carter
9. Don't dwell on the negative
"Don't focus on the things that go wrong with the shoot. At the end of the day, the final product will speak for itself." — L'eiair Wilson
10. Just have fun
"My secret weapon for production? Honestly, it's to have fun. There are a lot of rules like – oh, don't do this, don't do that, this is the perfect shot. Don't get caught up in these rules. Have fun. Remember this is art. You know, this is supposed to be food for the soul, so just treat it that way." — Jasmine Leyva 
See the Re: Stock Collections